LC-54: WATER BATH (Regular)
Double walled STD/GMP Model. The gap between the walls is filled up with special grade glass wool for proper insulation to avoid heat losses and thereby saving energy.
Temp Range : 5°C above ambient to 95°C ± 0.5°C controlled by Thermostat ;6 or 12 holes of 7.5cm dia with set of concentric rings for each hole. Completed with argon welded all joint to avoid water leakage
Temp. Control by : Microprocessor base double display auto tune PID Temp.Controller
Safety : Low Water Label cut off system arrangement
Power supply 230VAC 50Hz.
S.T.D MODEL : Outer M.S Powder Coated, Inner: SS 304
G.M.P. MODEL: Complete Inner Chamber/Outer Body Stainless Steel: SS 304
| | | |
| --- | --- | --- |
| Model |   Dimensions   L x B x H | No. of  Holes |
|     a) |            25 x 35 x 10 |          6 |
|     b) |            30 x 40 x 10 |        12 |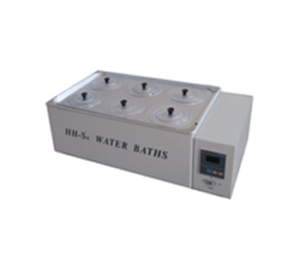 LC-55: WATER BATH (Serological)
Double walled STD/GMP Model. The gap between the walls is filled up with special grade glass wool for proper insulation to avoid heat losses and thereby saving energy. Rectangular shape Thermostatically controlled. Temperature Range : 5 °C above ambient to 95° C ± 2 °C complete with Pyramidal SS lid. Supplied without Kahn racks.
Temp. Control by : Microprocessor base double display auto tune PID Temp.Controller
Safety : Low Water Label cut off system arrangement
Power supply 230VAC 50Hz.
S.T.D MODEL: Outer M.S Powder Coated, Inner: SS 304
G.M.P. MODEL: Complete Inner Chamber/Outer Body Stainless Steel: SS 304
| | | |
| --- | --- | --- |
|     Model |    Chamber (cms)  L x W x D |  No. of  Racks |
|         a) |               25 x 15 x 12.5 |           2 |
|         b) |             37.5 x 25 x 12.5 |           4 |
LC-36: OIL BATH (Round)
Designed to accommodate Round Bottom Flasks with seat cover Double Walled STD/GMP Model. The gap between the walls is filled up with special grade glass wool for proper insulation to avoid heat losses and thereby saving energy . SS Tubular Heating Elements placed at bottom;
Temp. Range : 50°C above ambient to 250°C ±1°C
Temp .Control by : Auto Tune Double Display Microprocessor base PID Temp.Controller
Temperature Controller cum Indicator
Power supply 230V AC 50Hz.
S.T.D MODEL : Outer M.S Powder Coated, Inner: SS 304
G.M.P. MODEL: Complete Inner Chamber/Outer Body Stainless Steel: SS 304
Size:
| | |
| --- | --- |
|       Model |         Cap. (Liters) |
|          a) |                   1 |
|          b) |                   2 |
|          c) |                   3 |
|          d) |                   5 |
|          e) |                 10 |
|          f) |                 20 |
LC-37: OIL BATH (Precision –Rectangular)
Temp. Rang : 50 OC to 250 OC.,+ / – 1 OC.
Temp. Control : Microprocessor Base PID Digital Temp. Controller with PT 100 Sensors.
Inner Chamber : Stainless Steel duly Argon Arc welded.
Insulation : Glass wool Insulation.
Heaters : Special type Stainless Steel Oil Tubular Oil Heater.
Circulation : Oil Re-circulation inside by Heavy Duty Motor with Blade (Stirrer)
Temp.Control by : auto Tune Double Display Microprocessor base PID Temp.Controller
Construction : Non GMP & GMP Model Available
S.T.D MODEL : Outer M.S Powder Coated, Inner: SS 304
G.M.P. MODEL: Complete Inner Chamber/Outer Body Stainless Steel: SS 304
     Model
Working Size  ( cms)
Liters

Capacity

       W x D  X H
         a)
30 x 22.5 x 17.5
12 Lts
         b)
33 x 25 x 20
17 Ltrs
         c)
`38 x 30 x 25
30 Ltrs